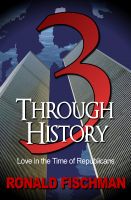 Hola Ronald, thank you for visiting. Please tell us a little bit about yourself-
I'm cursed with a creative and sensitive soul, but in the area of my passion, music, I never had quite enough talent to break through as a singer. I made my living at it for about six years, but as I approached 45, my bookings went in reverse. Fortunately, I always wrote music, so the shift from composing music and writing literary fiction wasn't too bad. Especially (see next answer)…
How did you decided to enter the world of writing?
I didn't have a musical ensemble to write for, but I had to start exorcising the pain from my failed marriage. So I wrote my first adult poem, "Metaphor," and I found that I could move people with words. No need to find musicians. I developed a circle of poets and readers on Facebook.
What does your family think of your writing?
I will remain the sad sack of my family until I get an agent. They love my poetry and my writing, but they hate my financial fecklessness.
Where do you get your ideas?
Life. As a poet, I think in pictures, and then form the language to convert the visual into an audio picture. A homeless guy I used to spend a lot of time with got to anticipate me. We'd be driving to an interview or something like that, and we'd see some incongruous juxtaposition, and it got to be that he'd be the first to tag it with the phrase, "That's a poem." Yes, I have this predilection for seeing past people's stations in life, and trying to see the life inside their stations.
Can you tell us a little about your book?
The love triangle that makes up the backbone of the book is real. The history, from the kibbutz movement to the fall of socialism to the development of an arts and theater culture in mainstream Mexico to the 9/11 attacks, the wars, the Republicans – all real. The leading lady is based on an amazing, brilliant but deeply damaged woman that I have the tragic misfortune to know well. Really, this story is her story, with some scenes that steam up the pages. That Dimitri gets laid, too easily and too often, is a given, but he's not interesting enough to be a good lover. Rafi is profoundly interesting, but just clumsy enough with women that he will engage the reader's brain, and maybe her heart, but not her body. In the end, Frida dictates the course of her life. Absolutely, Salma Hayek plays her.
What is your writing process?
For the longest time, I wrote a little bit when I could work it in with life. I was casting about for a way of making a living, and not taking the novel seriously enough. Now, I write before I start my day. Especially now during National Novel Writers Month, I have to churn out the chapters to finish a draft by December.
What was the hardest part for you when working on your book?
It was a killer coming up with a character arc for Rafi the musician/philosopher. It was easy to get him as far as the fall of the Soviet Union, because he started to suspect socialism on the kibbutz and became unseated when the beliefs he held failed in such a spectacular way, but then he still has to live until he meets Frida. So I made his life track mine for a while – end of problem!
What influenced or inspired you to write?
I alluded to this earlier. I lived this love triangle. The rest of the book was how I let you live it, too.
Was there a scene that you didn't add or you removed in your finished work?
Oooohhh, yes! There was a scene of sexual fantasy between Frida and some girls from her Catholic school. It created all kinds of problems in the plot later, so I killed it and sent it off to some erotic and lesbian magazines. It was rejected because, since the girls were underage, it could have gotten publishers in big trouble! I hadn't thought of that.
Do you have a favorite character (from your book)? Why?
Frida is the leading lady at all times, even when things go horribly for her. Such a strong woman captures anyone's imagination. The most interesting character may be Frida's best friend since childhood, who presages Rafi in that she falls romantically in love with Frida and lives with the desperate frustration of unrequited love with someone she can't just leave.
Do you already know what to write next? Can you tell us?
Look for A Song for Aba, a middle-grades time-travel fantasy novel as told by Rafi's son Ezra. It may be more marketable than 3 Through History, in the long run!
Where can we find more information about you and your books?
Do you have any last words?
Yes. This is a character-driven novel. It is Jewish, Mexican, musical, and in some places, caliente/ It is political and personal. Really, if you are between 30 and 50, it is your life.
Ronald it was a pleasure having you hear and learning all about your work.
I love weekends because?
I get to see my kids.
My favorite song is?
Won't Get Fooled Again, by The Who.
I want to travel to? Why?
The Ukraine, because there is a beautiful woman there who wants me to marry her, whether or not I have money.
I want to invite
Cee Lo.
to dinner. Why?
I think it would be fun to improve vocal harmonies with him.
My dream is to
?
Sing "E Lucevan di Stelle" at the Met, and be good enough to pull it off!
My favorite book is?
At the moment, I'm still captivated by a book by an unknown Soviet author named Mikhail Bulgakov. The book is called The Master and Maguerita, and it's a masterpiece of social satire and magical realism.